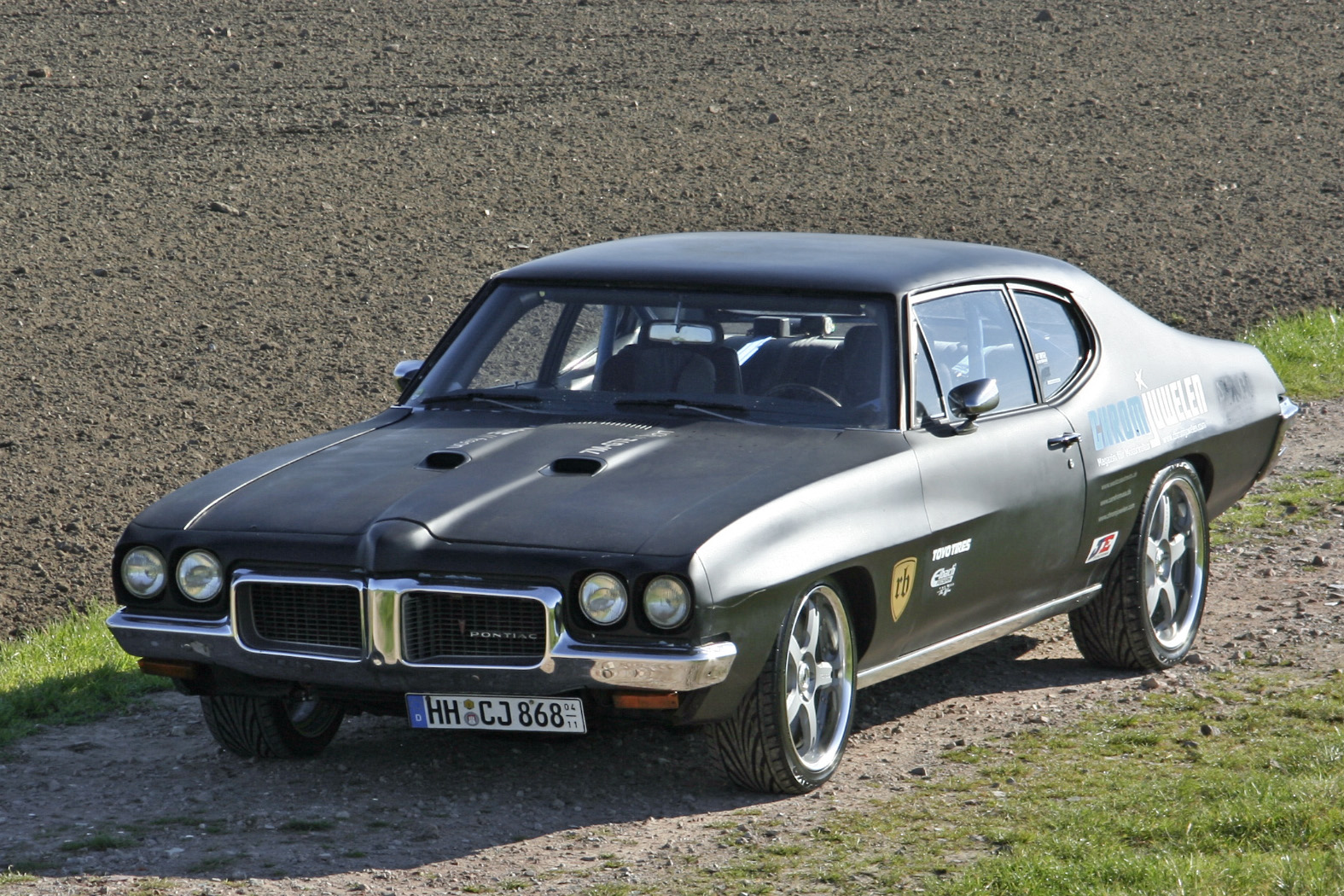 Mission
Building a storytelling pr case – a radical show car – which embodies the character of Chromjuwelen as a vehicle.
1972 Pontiac "LeSupra" LeMans – Facts
Car
1972 Pontiac LeMans 2dr Sedan

1970 Pontiac LeMans frontclip

Custom rollcage, Toyota Celica seats, Schroth shoulder harnesses
Engine/Transmission
1991 Toyota "7M-GTE" Supra (3.0 litre (2954 cc), 24-valve, tubocharged)

5-speed manual Toyota transmission

Kevlar/ceramic clutch
Pistons, Rods
JE Pistons (Turbo/Nitrous), Eagle H Beam Rods, JE Nitrous/Turbo Rings, 900 HP Piston, Rod and Ring Combo (7MGTE 1987-1992 Supra Turbo)

Eagle 4340 Steel H Beam Rods with ARP bolts

JE Turbo/Nitrous Pistons with 8.4:1 compression ratios available

Bore size, 83.50 or 84.00mm only

JE wrist pins and locks

JE Turbo/Nitrous ring set - Set of 6

Combination is good for 900 HP

Will handle 35 PSI of Boost and or 300 Shot of Nitrous
Misc
Wastegate 6,8 PSI, 46 mm

Haltech E6X ECU

"Liquid To Air" Intercooler System (AC System converted into an intercooler system)

Speedstar-Tecs exhaust system, 75mm

K&N aircleaner

KAT (CNC-Motorsports.com)
Suspension, Brakes, Wheels
Custom tubular A-arms, teflon bushings

Ventilated discs (front, 1980 Chevrolet Camaro)

AEZ Nemesis 8 1/2 x 19 (v. 245/40R19, h. 255/40R19)
Partner
[...] "We are putting a 1991 3.0 Toyota Supra engine in a 1972 Pontiac LeMans," said Ralf. "Maybe you have seen it already." With those words, Ralf went from garage rat to post-modern rod hero. - Hemmings Motor News, May 22, 2007
[...] Sushi mit Ketchup? Das ist schlimm. Noch schlimmer ist es für Puristen, wenn japanische Motoren in Musclecars verpflanzt werden, in uramerikanische Kultautos. Ralf Becker hat es getan - die Fangemeinde ist zutiefst verstört. - SPIEGEL ONLINE, September 09, 2007
[...] we're going to keep an eye on these guys, you never know what kind of shenanigans those Germans are getting into. - Jalopnik.com, February 19, 2008

Documentation
Press (Print)
November 1, 2007, Hemmings Motor News: "Hamburg Jazz"

Street Magazine
Pontiac LeSupra [01:44] – July 2007
Production: Chromjuwelen.com, Tatjana Böcher.